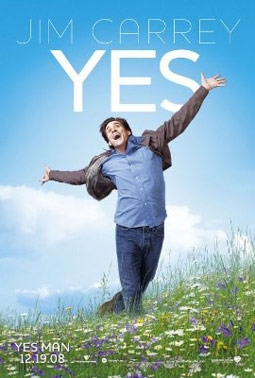 The best things in life are free and I have to say that's true. I have to admit that I was a bit hesitant to say "yes" to the invitational press premiere of the movie
"Yes Man"
because to be honest I'm not a very big fan of Jim Carrey. I'm glad I said yes, after all a free movie is a free movie, besides I'll be in the area where the premiere will be held anyway.
The movie is about the life of a man named Carl Allen who's stuck in a dead end job and a very boring existence out of choice after what seemed to be a presumably very sad episode of divorce. Out of choice he cut himself off from his friends and his idea of fun was watching dvd after dvd of just about any movie he could find in the local friendly neighborhood video store. Carl's life changed when he attended a seminar recommended by an old colleague, the "Yes Seminar". Somehow in the process after attending that seminar he said yes to life and life happened for him. The movie in my opinion comes out of typical romantic comedy cookie cutter type in Hollywood. Sad guy finds a reason to start life again, finds a girl, trouble brews along the way, girl leaves guy and then guy finds a way to get the girl and they live happily ever after. The usual Jim Carrey antics were present but entertaining this time and not at all distasteful. The one redeeming quality of the movie that makes it a must see is the fact the from the moment it starts it guarantees a laugh fest. After the credits rolls everyone in the cinema clapped their hands because truly it was funny and it was fun. The idea of saying yes to every thing that life presents seems promising because of that movie.
Now, I am ready to say "Yes" to the next movie premiere.